We've been recognised for our approach to employee acquisition, training, development and retention.
PRESS RELEASE 
The South America division of PEAK DMC, the world's leading global experiential travel operator, has won the People Award in the 2019 LATA Achievement Awards. The announcement was made at the annual ceremony which recognises innovation and excellence from across the Latin American travel industry. The panel of judges commended PEAK DMC for its approach to employee acquisition, training, development and retention.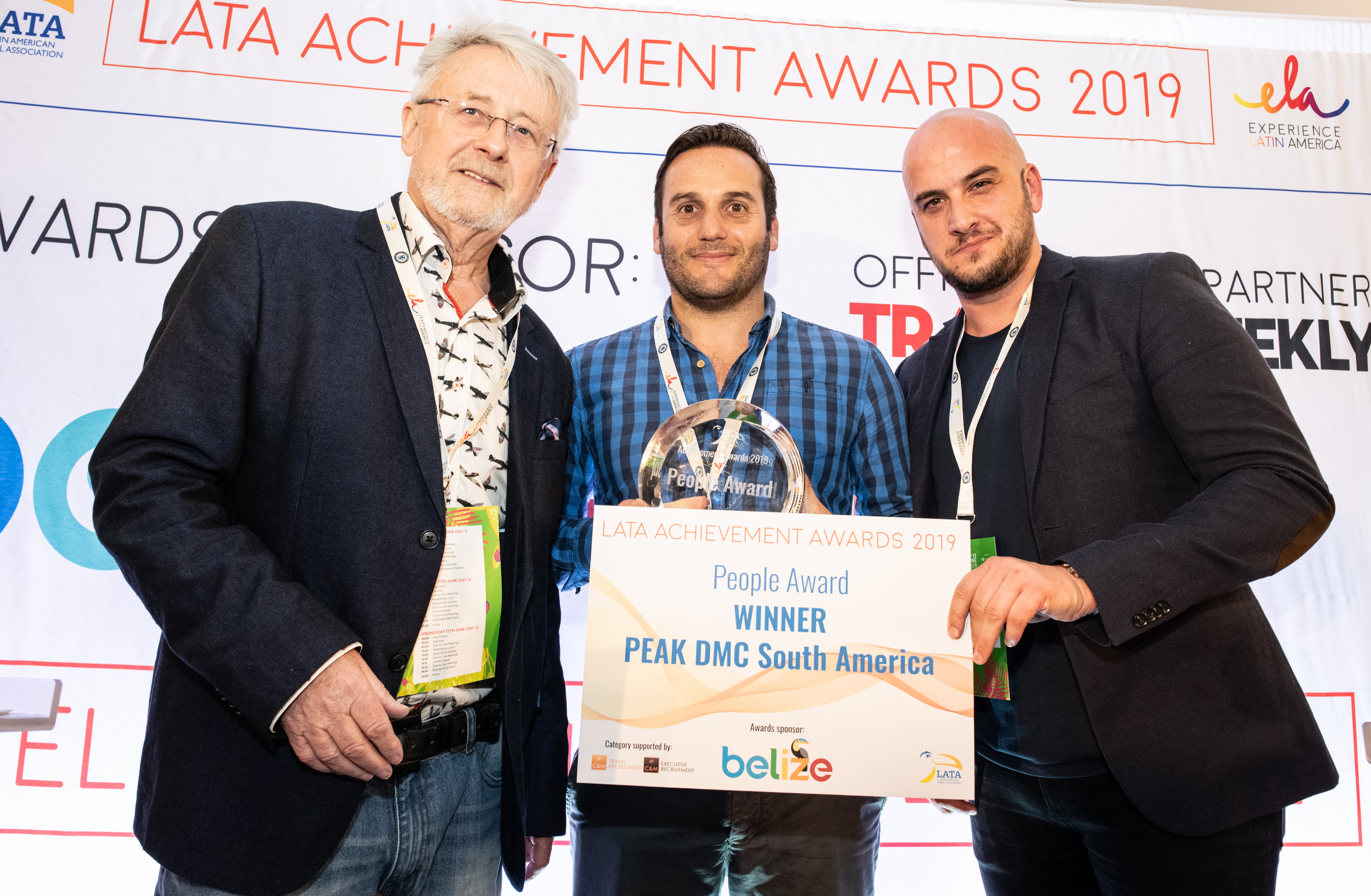 In 2018 PEAK DMC launched a new policy on special paid leave, which is focused on supporting staff to be able to assist relatives with serious diseases, rehabilitation, or medical assistance. The company also implemented an employee assistance programme which provides confidential, personalised support to staff who might be having difficulties in either their professional or personal lives. This is in addition to the 20 hours of volunteering leave, five days of educational leave to be used for relevant studies outside of work, and a free trip per year for all staff that the company offers its staff.
Gary Cohen, regional general manager of PEAK DMC South America commented, "We're thrilled to have been awarded the People Award in the prestigious LATA Achievement Awards. Our staff and the people we work with are the key to our business and we wouldn't be able to deliver operationally without the skills, passion and expertise of our team."
He continued, "This is the second consecutive year PEAK DMC has won a LATA Achievement Award after winning DMC of the Year in 2018. We're fully committed to empowering people that we directly employ and those who work within the local communities that we operate in and we're proud to have been recognised for that."
In addition to the benefits the company offers, PEAK DMC has a strong policy on diversity and inclusion throughout the recruitment process and ensures a 50:50 gender split at the final interview stage and aims to provide opportunities for people with special needs. Employees go through two dedicated training phases, and new employees must complete mandatory sexual misconduct, anti-bribery and corruption training. Outside of its office employees, PEAK also provides training for its suppliers, including freelance tour leaders, guides, porters and cooks.
The company works hard to develop and retain its staff and every staff member receives a regular one-to-one catch up with their line manages, as well as a documented career development plan, and an annual review. PEAK operates a 360-degree feedback system, whereby each member of staff is given the confidence to provide honest, respectful feedback to any other member of staff, regardless of their seniority.